Everyone loves free money – back by popular demand
At CashChanger, we'd love to reward users just like you, who help provide rates information to everyone within the community.
We have given out cold hard cash twice before, and it is our honour to announce that we will be giving away cash again!
We are sticking to our scoring matrix where we award more points from some areas, encouraging sharing of rateboard images from different locations.
As such, here's the scoring matrix per image:
Raffles Arcade: 1 point
Jurong: 2 points
Ang Mo Kio: 2 points
Toa Payoh: 2 points
Woodlands: 2 points
Tampines: 2 points
Orchard Road: 2 points
Everywhere else: 1 point
**So starting today (1 March) to 31 March 2018, start snapping away and the top contributors stand to win some cash:
Top contributor: S$50
2nd contributor: S$20
3rd contributor: S$10**
To join, submit your rateboard images to our official CashChanger Telegram group. We will add your score based on your contribution in our Telegram group.
We will maintain a leaderboard and the top 3 contributions between 27 Nov to 24 Dec will receive cold hard cash from CashChanger.
Some terms & conditions (we hate the legal stuff too, but unfortunately, it is necessary):
A) All rateboards sent to us has to be complete, sharp, and legible to qualify. Please refer to this as the best example: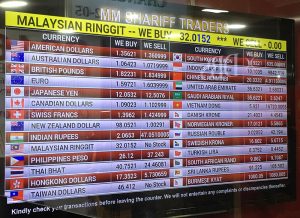 B) This is important! If the name of the shop is not shown on the rateboard, please furnish us with the information
C) This is important too! Please only send us recent photos. We would only accept contributions within the hour. Don't send us rateboards from years ago. We have our ways to find out. 🙂
D) We accept rateboards from money changers location in Singapore and Malaysia only.
E) It is okay if you'll send us consistently from the same shop on multiple days. But we would only count contributions from the same shop from the same contributor once a day.
F) Prizes will be dispense via Singapore bank transfer before 31 Dec 2017. Please ensure you have a Singaporean bank account to receive the prize.
G) CashChanger's decision is final, and CashChanger reserve the rights to modify any terms & condition without notification. (We are nice and fair people.)
As always, do ping us directly for any feedback, and we'll be happy to hear what you have in mind.
Are you a money changer? Join us by leaving your contact here directly and stand to gain our whole suit of software and hardware for free to help digitize your business. 🙂
Missed our recent news? Catch up on news like back by popular demand here https://stories.cashchanger.co/
Catch us on:
Web: https://cashchanger.co | https://remit.cashchanger.co/
Telegram: https://cashchanger.co/telegram
Facebook: https://fb.me/cashchanger
Instagram: https://www.instagram.com/cashchangercom/
#exchangerate #remittance #compareexchangerates #compareremittancerates #fxrates