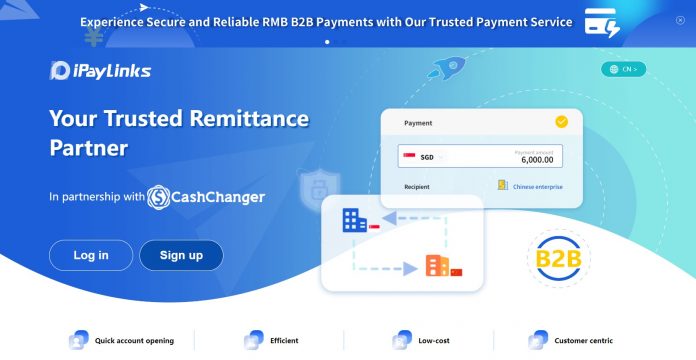 Corporate Remit CNY into China – if you're a SME (Small Medium Enterprise) or individual looking to pay your suppliers or invoices to your Chinese supplier, sometimes you would be asked to do regular TT (Telegraphic transfer), and even put payment to support family, loans, and so on.
Introducing our latest collaboration and partnership with iPayLinks – your trusted remittance partner, for all SGDCNY Singapore to China remittances
Signup now to enjoy preferential rates on your next RMB payments transfer into China.
Register with
iPayLinks
by using your corporate mobile number; one-click registration, online account opening and send RMB payment instruction online.
Supports online account opening via Myinfo business for Singapore corporates and sole proprietors, skip manual form filling
$0 account opening fee, $0 management fee, $0 maintenance fee; directly connected to Chinese local bank payment channels, ensuring the lowest possible cost
Receive SMS, email, and dashboard notification for real-time payment updates 8 years of expertise in cross-border payments, no account frozen risk
MAS (Monetary Authority of Singapore) licensed MPI Payment Service Provider
Global payments in 72+ Countries and lower prices

usiness covers 85% of countries and regions worldwide

Over 200,000 satisfied merchants
iPayLinks
is a leading cross-border payment service provider in China, offering a one-stop global platform for fund collections and payments, and currency exchanges.
At present,
iPayLinks
has established presence in Singapore, Malaysia, Hong Kong, Shanghai, the United Kingdom, and the United States, supporting settlement in 12+ major currencies.
iPayLinks
is committed to empowering the global business development of Chinese cross-border enterprises with digital technology.
---
As usual, are you a money changer? Join us by leaving your contact here directly and stand to gain our whole suit of software and hardware for free to help digitize your business. 
Missed our recent news? Catch up on news like Corporate Remit CNY into China here https://stories.cashchanger.co
Compare & get latest best China Exchange rates #SGDCNY #CNYSGD #CNY #RMB #Renminbi #SingCN #SingChina https://cashchanger.co/singapore/sgd-to-cny
Compare Remittance best rates to send money from Singapore to China 中国 – https://remit.cashchanger.co/singapore/sgd-to-cny
Catch us on: https://cashchanger.co | https://remit.cashchanger.co/
Twitter: https://twitter.com/cashchanger
Telegram: https://cashchanger.co/telegram
Facebook: https://fb.me/cashchanger
Instagram: https://www.instagram.com/cashchangercom/
#exchangerate #remittance #compareexchangerates #compareremittancerates #fxrates