Introducing Revolut – Remit and Save – Sign up and get a S$15 top-up.
Join 25+ million people who save on high fees when they transfer money abroad with Revolut
Check out Revolut's rates at Remit.CashChanger Website here.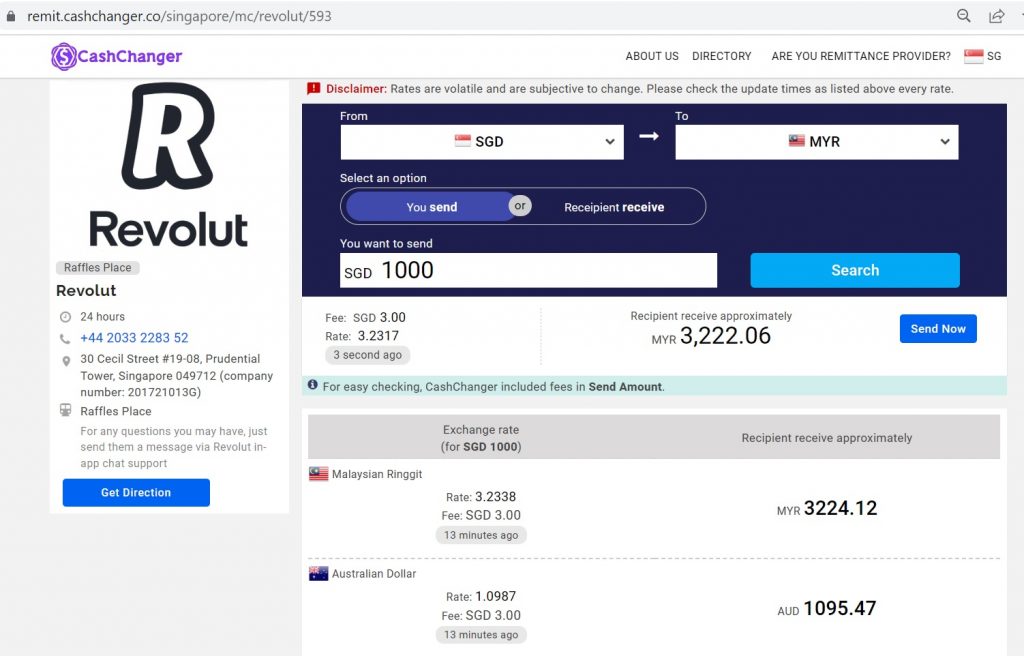 Here are the frequently asked questions about Revolut.
What are the transfer limits?
For most currencies, there are no limits to the transfer amount. Certain currencies might have limits set by our payments partners. You will always see the limit in the Revolut app before making the transfer.
Is it safe to send money with Revolut?
Yes. Revolut is an authorised Electronic Money Institution independently regulated by the Financial Conduct Authority (FCA) in the United Kingdom.
What details do I need for an international bank transfer?
Details vary depending on the payment method. It's usually a combination of phone number, the recipient's full name, their bank account number and their BIC/SWIFT number. Sometimes, Revolut may ask you for the city as well.
How long does it take to send money abroad via Revolut?
Different payment methods affect your transfer delivery time. Payments to other Revolut users and card payments are instant.
Transfers to cards typically take a few minutes but can take up to 30 minutes.
International transfers can take up to 3 to 5 business days to reach the recipient's account. Check out the pricing widget for more details for your transfer.
Where can I transfer money?
Transfers to the following countries are not supported: Afghanistan, Angola, Burkina Faso, Burundi, Cambodia, Central African Republic, Congo (Brazzaville), Congo (Kinshasa), Cuba, Egypt, Eritrea, Ethiopia, Guinea, Guinea-Bissau, Guyana, Haiti, Iran (Islamic Republic of), Iraq, Korea (North), Lao PDR, Lebanon, Liberia, Libya, Myanmar, Nigeria, Palestinian Territory, Pakistan, Panama, Serbia, Sierra Leone, Somalia, South Sudan, Sri Lanka, Sudan, Swaziland, Syria, Tajikistan, Tanzania (the United Republic of), Uganda, Timor-Leste, Trinidad and Tobago, Vanuatu, Venezuela (Bolivarian Republic), Yemen and Zimbabwe.
How do I pay get the S$15 top-up ?
Simply Sign up and get a S$15 top-up by March 31th 2023
Selected countries are Austria, Belgium, Bulgaria, Czech Republic, Germany, Denmark, Estonia, Spain, Finland, France, United Kingdom, United States, Greece, Croatia, Hungary, Ireland, Italy, Lithuania, Luxembourg, Netherlands, Norway, Poland, Portugal, Romania, Sweden, Slovenia, Slovakia T&Cs Apply
Revolut Technologies Singapore Pte. Ltd. ("RTSPL") is registered in Singapore with Unique Entity Number 201721013G. RTSPL's registered address is 30 Cecil Street, #19-08, Prudential Tower, Singapore 049712. RTSPL is regulated as a Major Payment Institution (licence no. PS20200326) by the Monetary Authority of Singapore ("MAS"). For more details, you can refer to the MAS website here.
RTSPL provides insurance-related products as a registered Corporate Agent with the Agents' Registration Board (C005604-000). The travel insurance policy is underwritten by Tokio Marine Insurance Singapore Ltd. with assistance services provided by AWP Services Singapore Pte. Ltd. Consumer advisory: Consumers (users) are advised to read the terms and conditions carefully.
As usual, are you a money changer? Join us by leaving your contact here directly and stand to gain our whole suit of software and hardware for free to help digitize your business. 🙂
Compare & get latest best Exchange rates #MALAYSIA #SGDMYR #MYRSGD #MYR #RINGGIT #SingMalaysia https://cashchanger.co/singapore/sgd-to-myr
Compare Remittance best rates to send money to Malaysia from #Singapore – https://remit.cashchanger.co/singapore/sgd-to-myr
Missed our recent news? Catch up on news like Introducing Revolut – Remit and Save here  https://stories.cashchanger.co
As always, for money changer and remittance rates, catch us on:
Web: https://cashchanger.co | https://remit.cashchanger.co/
Telegram: https://cashchanger.co/telegram
Facebook: https://fb.me/cashchanger
Instagram: https://www.instagram.com/cashchangercom/
#sgdjpy #exchangerate #remittance #compareexchangerates #compareremittancerates #fxrates