KUALA LUMPUR: The ringgit is expected to gradually strengthen in the next few weeks, fuelled by the recovery in global oil price, positive development in the US-China trade tension and growing expectations for an interest rate cut in July, economists said.
Volatile oil prices and political turmoil have weighed on the ringgit, leaving it at the bottom of Southeast Asian currency rankings so far this year.
After falling more than five per cent in the first three months, the ringgit is up by about 1.0 per cent against the US dollar so far in the second quarter.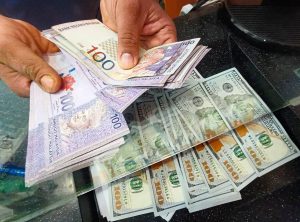 Putra Business School associate professor Dr Ahmed Razman Abdul Latif said the containment of Covid-19 pandemic in several countries including Malaysia would also help the ringgit.
"I expect the ringgit to strengthen in the near future but it will be a slow, gradual improvement," he said.
Ahmed Razman expects the ringgit to be 4.10-4.15 vis-a-vis the dollar at the year-end.
AmBank Research head and chief economist Dr Anthony Dass said the impetus for the ringgit would also come from Malaysia's RM295 billion economic stimulus packages, which are expected to revive both investor and consumer confidence.
Dass said some early data had shed positive signs, particularly the Manufacturing Purchasing Managers' Index. after having the economy reopened from the gradual shift of the Movement Control Order (MCO) to conditional MCO.
What is needed now is for a recovery in the third quarter to meet expectations.
"Such validation will be a good framework on how the market should look at the local currency. On the flip side, if we look into June, the ringgit – which has gained on the back of heavy US dollar selling – can have its appreciation capped.
"This could come from the ongoing domestic political noise," he said.
Dass expects a ringgit high of 4.22 and a low of 4.31 for the month.
Bank Islam chief economist Dr Mohd Afzanizam Abdul Rashid, meanwhile, said the ringgit might continue to remain volatile given the uncertainties over global economy following the Covid-19 pandemic.
Afzanizam, nevertheless, revised the ringgit year-end target to 4.25 from 4.30 previously.
He said the intermittent rise in the new Covid-19 infections would continue to affect market sentiments as this will affect the reopening of the economy.
However, he said the government had been very accommodative to prescribe additional stimulus and this should help the economy to bounce back.
"Not to mention our OPR (overnight policy rate), which is fairly high compared to the advanced economies' benchmark interest rates. Therefore, from the positive carry trade perspective, there is always a case for the ringgit to appreciate going forward," he said.
This blog post was originally published in nst.com.my/on 24 June 2020.
Do catch us on:
Web: https://cashchanger.co
Telegram: https://cashchanger.co/telegram
Facebook: https://fb.me/cashchanger
Instagram:https://www.instagram.com/cashchangercom/