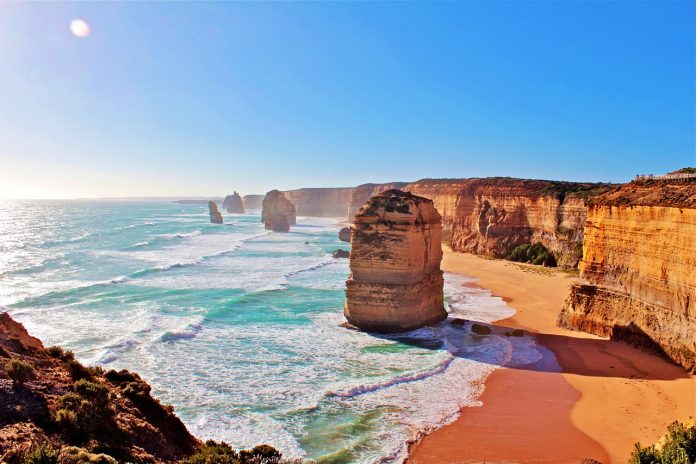 Visit Australia – Places and Itineraries for beginners – Australia is a vast and diverse country, with many incredible places to visit. Depending on your interests, there are many different itineraries that you could consider as a beginner.
Here are a few suggestions:
Sydney and the Great Barrier Reef: Sydney is one of the most iconic cities in Australia, known for its beautiful harbor, iconic Opera House, and the nearby beaches. From Sydney, you could fly to the Great Barrier Reef, where you can snorkel or scuba dive among the colorful coral and marine life.
The Outback: The Outback is the rugged and remote interior of Australia, known for its red deserts, rocky gorges, and ancient Indigenous culture. A popular destination in the Outback is Uluru, also known as Ayers Rock, a large sandstone formation and important sacred site for Indigenous Australians.
Melbourne and the Great Ocean Road: Melbourne is known for its culture, food, and coffee. Take day trip or tour along the Great Ocean Road, where you will see famous landmarks like the Twelve Apostles, rock formation and beautiful coastal views.
Perth and the Kimberley: Perth is the capital of Western Australia, known for its beaches and relaxed atmosphere. From Perth, you could take a tour to the Kimberley, a remote and rugged region known for its spectacular gorges, waterfalls, and Indigenous rock art.
Tasmania: Tasmania is an island state of Australia, known for its rugged wilderness, beautiful beaches, and unique wildlife. Hobart is the capital of Tasmania and gateway to explore the island.
These are just a few examples, but there are many other incredible places to visit in Australia. The best itinerary for you will depend on your interests and how much time you have. But you can use this as a starting point to plan your own trip.
As usual, are you a money changer? Join us by leaving your contact here directly and stand to gain our whole suit of software and hardware for free to help digitize your business. 
Missed our recent news? Catch up on earlier news like Visit Australia – Places and Itineraries for beginners here https://stories.cashchanger.co/indonesia-massive-7-6-magnitude-earthquake-tsunami-warnings/
Compare & get latest best Exchange rates #SGDAUD #AUDSGD #AUD #AussieDollar  #Australia https://cashchanger.co/singapore/sgd-to-aud
Compare Remittance best rates to send money to Australia #Aussie #Downunder #澳大利亚 #澳洲 – https://remit.cashchanger.co/singapore/sgd-to-aud
Catch us on:
Web: https://cashchanger.co | https://remit.cashchanger.co/
Telegram: https://cashchanger.co/telegram
Facebook: https://fb.me/cashchanger
Instagram: https://www.instagram.com/cashchangercom/
#exchangerate #remittance #compareexchangerates #compareremittancerates #fxrates