send money to Malaysia money transfer service
Looking to compare the best exchange rate for money transfer services to Malaysia from Singapore? You can check at Remit.CashChanger.
Here's one of the easiest ways to send money to Malaysia is to make your remittance through Online Remittance, where you send your money online supported by various MAS licensed remittance agents and banks. Common send money via online remittance services includes using Wise, WesternUnion Online, Instarem, OFX, DBS.
You also can walk in to local remittance shop includes JC Global Remittance, Golden Horse Prize Enterprise, Zhongguo Remittance 长诚中国汇款 , Hanshan Money Express 汉生中国汇款, and so on.
Both online and local remittance shop money transfer required to prepare informations such as your NRIC or passport (for identity verification), receiver informations including receiver bank account detail and provide reason of transfer.
*Here's a tip for your remittance to Malaysia
Use remit.cashchanger.co a few days before you are ready to send money, and track to monitor the remittance rates and find the cheapest way to send money to Malaysia with a few simple clicks, for the amount you wish to send. You can also check the market trend chart at History Rate Trend Chart.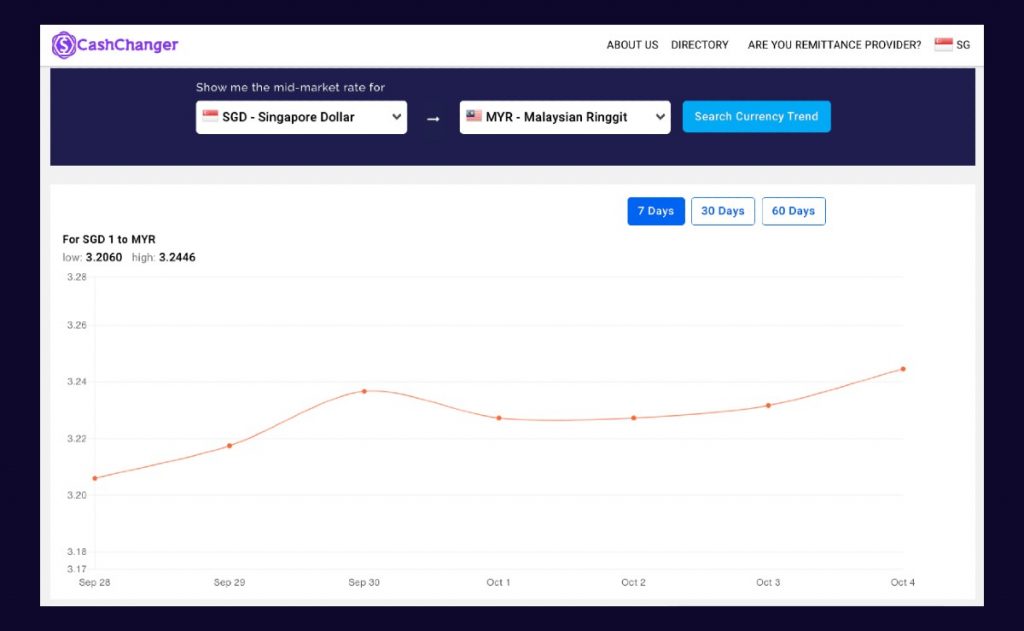 After you have compared the best rate to send money to Malaysia, using your Bank Account, do an online transfer using the remittance provider. Bear in mind to apply through remit.cashchanger.co to open an account with the providers, so that when the rates are best and cheapest, you can simply confirm and click to remit money to Malaysia through the provider.
An alternative method is via MYR Rupiah Cash remittance over the counter at the shops, to be paid into a bank account or by cash pickup in the destination country.
Either way, you start your transfer by comparing for the best rate on remit.cashchanger.co, start your money transfer via online or at the offline remittance agent of your choice, and money is locally delivered to the bank account in Malaysia.
Remittance Provider?
If you are a remittance provider, provide send money to Malaysia money transfer service and like to be part of us, we welcome you and you can register with us here!
Missed yesterday's news? Catch up on news here https://stories.cashchanger.co/
Compare & get latest best Exchange rates #SGDMYR #MYRSGD #MYR #RINGGIT #MALAYSIA #SingMalaysia https://cashchanger.co/singapore/sgd-to-myr
Compare Remittance best rates to send money from #Singapore to #Malaysia – https://remit.cashchanger.co/singapore/sgd-to-myr
As always, for money changers' rates visit
Web: https://cashchanger.co
Telegram: https://cashchanger.co/telegram
Facebook: https://fb.me/cashchanger
Instagram:https://www.instagram.com/cashchangercom/