Looking to compare the best money transfer rates to Malaysia?
Here's one of the easiest ways to send money to Malaysia is to make your remittance through Online Remittance, where you send your money online supported by various MAS licensed remittance agents and banks. Common money transfer methods include using Maybank, RHB Bank, CIMB, Instarem, Transferwise, Worldremit, Paypal, DBS, UOB, OCBC, Eremit, IMEremit, xoom, and so on.
*Here's a tip for your remittance to Malaysia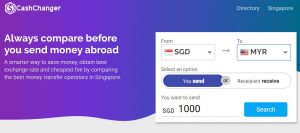 Use remit.cashchanger.co a few days before you are ready to send money, and track to monitor the remittance rates and find the cheapest way to send money to Malaysia with a few simple clicks, for the amount you wish to send.
After you have compared the best rate to send money to Malaysia, using your Bank Account, do an online transfer using the remittance provider. Bear in mind to apply through remit.cashchanger.co to open an account with the providers, so that when the rates are best and cheapest, you can simply confirm and click to remit money to Malaysia through the provider.
An alternative method is via SGD or MYR Ringgit Cash remittance over the counter at the shops, to be paid into a bank account or by cash pickup in the destination country.
Either way, you Start your transfer by comparing for the best rate on remit.cashchanger.co, start your transfer via online or at the offline remittance agent of your choice, and money is locally delivered to the bank account, or via cash pickup in Malaysia.
As always, for money changers' rates visit
Web: https://cashchanger.co
Telegram: https://cashchanger.co/telegram
Facebook: https://fb.me/cashchanger
Instagram:https://www.instagram.com/cashchangercom/