Stay Warm Canada Travellers – Extreme cold -40 alert – Environment Canada has released an extreme cold warning. On Tuesday (8th Nov) temperatures will drop to near -30 degrees Celsius overnight. Counting the wind chill, temperatures will reach -40 degrees Celsius by Wednesday morning.
The affected areas include:
Camrose Co. near Bashaw and Meeting Creek
City of Red Deer
Co. of Paintearth near Halkirk and Big Knife Prov. Park
Co. of Stettler near Big Valley
Co. of Stettler near Botha and Gadsby
Co. of Stettler near Byemoor and Endiang
Co. of Stettler near Donalda
Co. of Stettler near Stettler Nevis and Rochon Sands
Flagstaff Co. near Forestburg and Galahad
Lacombe Co. near Clive Alix and Mirror
Lacombe Co. near Eckville
Lacombe Co. near Lacombe Blackfalds and Bentley
Ponoka Co. near Ponoka and Maskwacis
Red Deer Co. near Elnora Lousana and Delburne
Red Deer Co. near Penhold Innisfail and Bowden
Red Deer Co. near Pine Lake
Red Deer Co. near Spruce View and Red Lodge Prov. Park
Red Deer Co. near Sylvan Lake and Stephansson House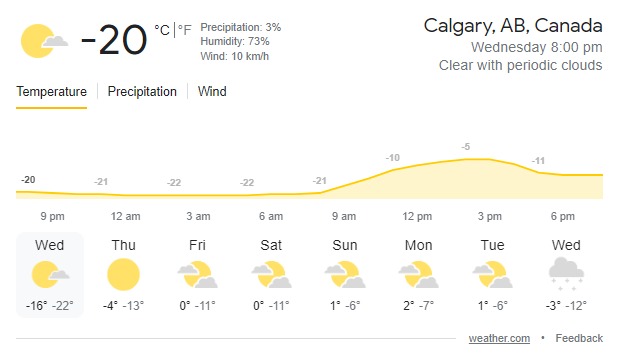 #skstorm 3:50p EXTREME COLD WARNING ISSUED by Environment Canada

Kindersley – Rosetown – Biggar – Wilkie – Macklin
The Battlefords – Unity – Maidstone – St. Walburghttps://t.co/dnTH1R5aMH pic.twitter.com/GhNlBpJBNS

— Instant Weather Saskatchewan (@IWeatherSK) November 9, 2022
Please stay indoors if possible, and drive safely and avoid long drives if possible. Pack heat packs, winter clothing, and monitor cell phones as batteries may stop working in the cold.
As usual, are you a money changer? Join us by leaving your contact here directly and stand to gain our whole suit of software and hardware for free to help digitize your business. 
Missed our recent news? Catch up on news like here https://stories.cashchanger.co/australia-coles-and-woolworths-rocked-in-recycling-scandal/
Compare & get latest best Exchange rates #SGDCAD #CADSGD #CAD #CanadianDollar #SingCanada https://cashchanger.co/singapore/sgd-to-cad
Compare Remittance best rates to send money to Canada from #Singapore #加拿大 #Canada – https://remit.cashchanger.co/singapore/sgd-to-cad
Catch us on:
Web: https://cashchanger.co | https://remit.cashchanger.co/
Telegram: https://cashchanger.co/telegram
Facebook: https://fb.me/cashchanger
Instagram: https://www.instagram.com/cashchangercom/
#exchangerate #remittance #compareexchangerates #compareremittancerates #fxrates
Read more about Stay Warm Canada Travellers – Extreme cold -40 alert at https://fortsaskonline.com/articles/extreme-cold-warning-issued-for-fort-saskatchewan-and-area