Winter is coming, this December holiday. Any plans on a Winter Destination? How about Korea!! South Korea is an extraordinary country filled with beautiful beaches, thriving cities, ancient temples, remarkable natural scenery and most importantly, friendly people. Here are three places you should visit with your love ones this holiday.
1.Vivaldi Park Ski World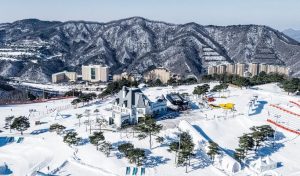 Source:https://www.trazy.com/experience/detail/afternoon-ski-snowyland-vivaldi-park
If you enjoy skiing and snowboarding, you should visit Vivaldi Park Ski World. The park is known for the most visited ski resort with its trendy restaurant and stylish buildings. Being the most fashionable resort in Korea, this park has attracted the local youngster. The opening hours are from 8.30 am until 5.00 am making a great choice for a day skiing or night skiing. Other than skiing or snowboarding, there are leisure facilities in the resort for tourist to enjoy like a bowling alley, forest bathing site, and a bumper car. There is so much to do on this never-ending adventure.
2.Bukhansan National Park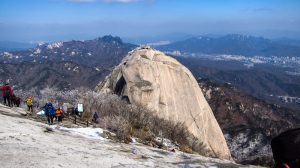 Source:
https://www.theseoulguide.com/day-trips/bukhansan-national-park/Insubong Peak, one of highlights of Bukhansan National Park
With clear streams, waterfalls and maple leaves, the park is actually close to Seoul only 45 minutes by subway but it does gets crowded especially on weekends. It is easily accessible by public transport and there are so many ways to get there. The park is surrounded by beautiful harmony of nature and has three peaks, and the highest up to 836 meters. It is one of Korea's most popular hiking destination. The hikes usually take 7-8 hours, so when you are up there you get to see the most stunning view of the city and the blood-red forest. The park qualifies to be one of the top places to visit in Korea during winter 2020. Be one with the nature.
3.Strawberry Picking
Source:http://iamontheroad.net/blog/strawberry-picking-in-korea/
After all the adventures, lets go and escape the cold. This is a great opportunity to bond with your love ones while picking some delicious sweet strawberries. In Yangpyeong Strawberry farm, you can pick and make hand-made jam, chocolate fondue and waffle with strawberries. The strawberry season is from Dec to June but the best season to go is from Feb to March. The strawberries are so big that it is worth bring home at least 500g- 1kg. Before you start picking them, they will summarize to you on how to pick them properly and you can eat as you go.
Remember! Check out cashchanger.co before you exchange currencies for your trip!
As always, for money changers' rates visit
Web: https://cashchanger.co
Telegram: https://cashchanger.co/telegram
Facebook: https://fb.me/cashchanger
Instagram:https://www.instagram.com/cashchangercom/
Banner source: Image by 아름 김 from Pixabay