Compare Travel Insurance promotions – with the Covid-19 pandemic moving into endemic status in most countries around the world and re-opening, its time to travel again for leisure and business. Before that, please consider Travel insurance comparison for the Best and Cheapest Travel Insurance.
Starr (Starr Insurance Companies) – a leading insurance and investment organization, providing commercial property and casualty insurance, including travel and accident coverage, to almost every imaginable business and industry in virtually every part of the world.
Established in 1919, Starr wrote $8.3 billion of premiums ending 2021 with over $30 billion of assets, and is a stable company to buy from. Do check out the 35% discount off Travel Insurance that they are offering, click to start here.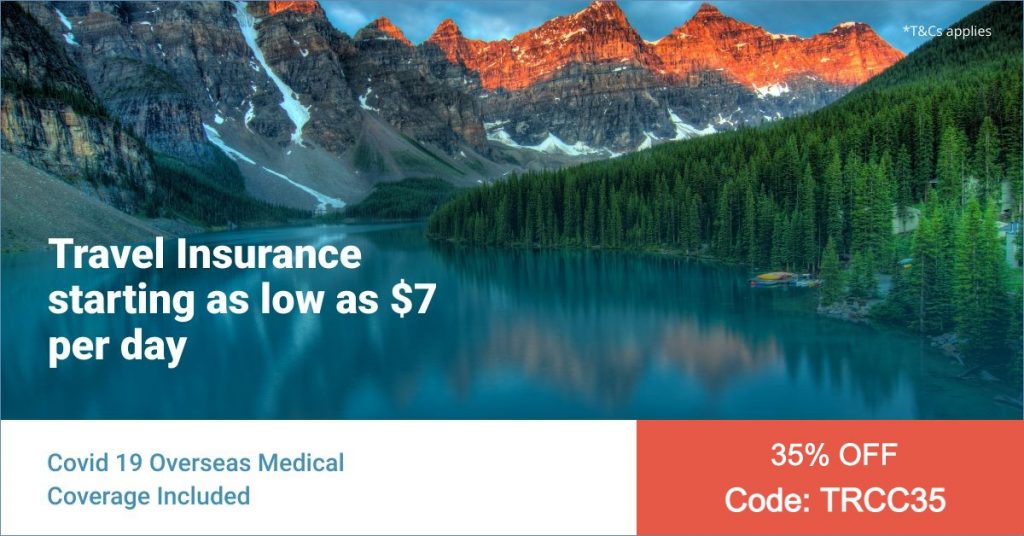 2. Next we have Allianz Travel – they cover all your favourite worldwide travel destinations with annual and single trip plans. They are running a 40% off all travel policies offer with our specially sourced code TRAVEL40  from our links do check them out here.

3. eTiqa's Tiq Travel Insurance
With Comprehensive COVID-19 add-on, protecting you before, during and after your trip,
Covers Cruise to Nowhere, Coverage for pre-existing medical conditions, full refund if you need to cancel your travel policy, getting paid upon a 3-hour flight delay, even without submitting a claim, 24-hour worldwide emergency travel support, flight check-in reminder, baggage belt collection details and so on, Tiq Travel Insurance should be on your list when comparing Travel Insurance.
4. AIG – Travel Guard Direct
Covers you for up to S$2,500,000 in overseas medical expenses.
Enjoy unlimited flexibility to accommodate changes to your travel plans.
Enjoy up to $50 in vouchers with promo code AIGTGD.
5. American Express – My Travel Insurance
With COVID-19 cover, plan your trip with a peace of mind. Get up to S$70 worth of shopping vouchers when you purchase a Standard or Superior Plan. Use Promo Code TRAVEL2022.
6. AXA Travel Insurance –
AXA has protected over 3,000,000 travellers on their adventures. You can count on their track-record for a truly worry-free trip.
7. Direct Asia Travel Insurance
Tailored cover with annual or single trip options. Individual travel insurance plans start from only S$14. Under family travel insurance, children go free with 2 adults. Covers you, your spouse and up to 4 children. Group are suitable for travellers from 2 to 6.
Enjoy additional 10% off with at least 3 travellers.
ERGO is one of the major insurance groups in Germany and Europe. Worldwide, ERGO is represented in more than 30 countries and concentrates on Europe and Asia. ERGO is part of Munich Re, one of the world's leading reinsurers and risk carriers.
Within 30 days pre-trip: Up to S$5,000 for trip cancellation due to COVID-19
During/after your trip: Up to S$200,000 in COVID-19 medical expenses incurred during/after your trip
Within 14 days post trip: S$100/day for up to 14 days if hospitalised due to COVID-19
10. Hong Leong Assurance Travel Insurance
Travel No Claims Discount Get rewarded for safe travels – If you do not make any claims from your travel insurance, you get additional up to 10% off your next travel insurance purchase on top of our promotions.
Extensive Travel Inconvenience Benefits – Protects against common travel inconveniences unexpected
Includes Loss of Baggage, Personal Money, Personal Documents, Trip Delay, Trip Curtailment, Travel Postponement.
Hospital Daily Income Benefit, 24-hour Medical Assistance, Coverage for Personal Accident, Compensation for Travel Inconveniences, Benefits extended to cover Covid-19.
Comprehensive cover with over 50 benefits – TravelEasy protects your losses from travel cancellation to flight delays, stolen travel documents, overseas medical expenses incurred due to accidental injuries or onset of sickness*, and follow-up medical treatment after your trip. COVID-19 travel insurance coverage is automatically included for Single Trips and Annual Plans.
13. NTUC Income Travel Insurance
Income's Travel Insurance Standard Plan (Single Trip), you can complete your COVID-19 pre-departure Polymerase Chain Reaction (PCR) swab test at $112.
Get up to 43% off. Use promo code TRAVEL18 + extra 30% off for MINDEF & MHA or POGIS policyholders.
Travel (COVID-19) insurance take care of the essential coverage you need should you be diagnosed with COVID-19 prior or during your trip. Get protected and avoid getting caught unprepared
16. The Wise Traveller Travel Insurance
Enjoy the benefits of being a Wise Traveller including comprehensive multi-trip travel insurance, private hotel & car rental discounts, airport lounge access options and a growing range of member only discounts and promotions to upgrade your travel experience.
17. Tokio Marine Travel Insurance
Travel the world and be protected from major emergencies and travel inconveniences. *Does not cover any claims directly or indirectly arising from Covid-19
Why do you need, and Compare travel insurance to save money?
You have to cancel a trip last-minute
Travel insurance can reimburse you for your prepaid, non-refundable trip costs – including vacation rentals, car rentals, hotels and flights – if you have to cancel for a covered reason.
Travel delays leave you stranded
Travel insurance can reimburse you for lost baggage, eligible meals, accommodation and transportation expenses during a covered delay.
You get sick or hurt when you're far from home
Travel insurance can reimburse you for care following a covered medical emergency while traveling. We can even arrange and pay for a medical evacuation if needed.
Fender-benders are unavoidable
Renting a car means taking on a big financial risk; even a tiny scrape can cost you hundreds. Low-priced rental car insurance lets you drive worry-free.
You need help in a hurry
Whether you're planning a week-long road trip or a weekend getaway, you never know what might happen. Travel insurance gives you access to 24 Hour Assistance hotlines for expert, personalized support in a crisis.
Catch up on our other news like Compare Travel Insurance here https://stories.cashchanger.co/
Catch us on:
Web: https://cashchanger.co | https://remit.cashchanger.co/
Telegram: https://cashchanger.co/telegram
Facebook: https://fb.me/cashchanger
Instagram: https://www.instagram.com/cashchangercom/
#exchangerate #remittance #compareexchangerates #compareremittancerates #fxrates
Disclaimer: Do check in the links above with the companies above for the latest promotions and details, opinions and suggestions are our own