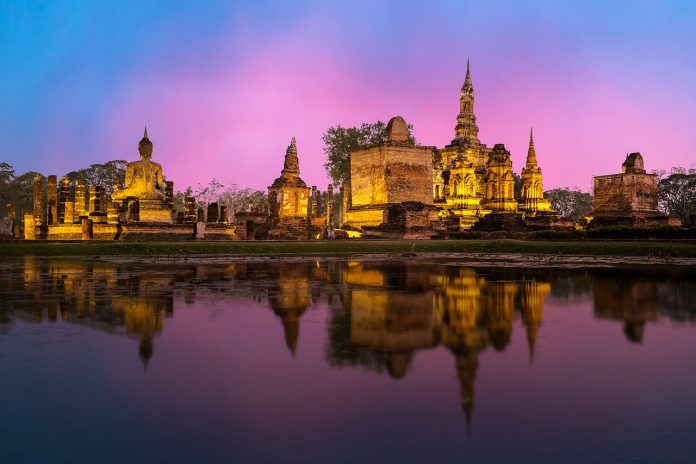 Explore Thailand – Ayutthaya, Sukhothai and more – With many amazing places to visit, if you're looking to travel to Thailand into the off beaten track, here are some suggestions for places to consider:
Chiang Mai: Located in the mountainous region of northern Thailand, Chiang Mai is a culturally rich city that is known for its beautiful temples, scenic landscapes, and laid-back vibe. Some of the must-see attractions in Chiang Mai include the famous Doi Suthep temple, the Night Bazaar, and the beautiful Bua Thong Waterfall. Visitors can also take a cooking class, go on a jungle trek, or enjoy a relaxing spa treatment.
Koh Samui: This beautiful island is a popular destination for those looking to soak up the sun and enjoy the turquoise waters of the Gulf of Thailand. In addition to its stunning beaches, Koh Samui is known for its beautiful temples, waterfalls, and local markets. Visitors can also go kayaking, scuba diving, or take a boat tour of the island.
Krabi: Located on the Andaman coast, Krabi is a province that offers a mix of stunning natural beauty and cultural attractions. Visitors can explore beautiful beaches, caves, and limestone cliffs at Railay Beach, Phi Phi Island, and other popular spots. Krabi is also home to the beautiful Tiger Cave Temple, where visitors can climb over 1,000 steps to reach the summit and enjoy panoramic views of the area.
Ayutthaya: This ancient city was the capital of the Kingdom of Siam from the 14th to the 18th century and is now a UNESCO World Heritage Site. Visitors can explore the many beautiful temples and ruins, including Wat Mahathat, where a famous Buddha head has become entwined in the roots of a nearby tree. Other popular attractions in Ayutthaya include the Chao Sam Phraya National Museum and the Ayutthaya Floating Market.
Sukhothai: Located in the north-central part of Thailand, Sukhothai is another UNESCO World Heritage Site that was the first capital of the Sukhothai Kingdom. Visitors can explore the many beautiful temples and ruins, including Wat Mahathat, which features a towering Buddha statue. Other popular attractions in Sukhothai include the Sukhothai Historical Park, which is filled with ancient structures and sculptures, and the Ramkhamhaeng National Museum, which showcases many of the region's historical artifacts.
These are just a few of the many amazing places to visit in Thailand, and each one offers a unique blend of culture, history, and natural beauty.
As usual, are you a money changer? Join us by leaving your contact here directly and stand to gain our whole suit of software and hardware for free to help digitize your business. 
Missed our recent news? Catch up on news like Explore Thailand – Ayutthaya, Sukhothai and more here https://stories.cashchanger.co/
Compare & get latest best Exchange rates #SGDTHB #THBSGD #THB #Thaibaht #Baht https://cashchanger.co/singapore/sgd-to-thb
Compare Remittance best rates to send money to Thailand #Thailand #泰国 – https://remit.cashchanger.co/singapore/sgd-to-thb
Catch us on:
Web: https://cashchanger.co | https://remit.cashchanger.co/
Twitter: https://twitter.com/cashchanger
Telegram: https://cashchanger.co/telegram
Facebook: https://fb.me/cashchanger
Instagram: https://www.instagram.com/cashchangercom/
#exchangerate #remittance #compareexchangerates #compareremittancerates #fxrates