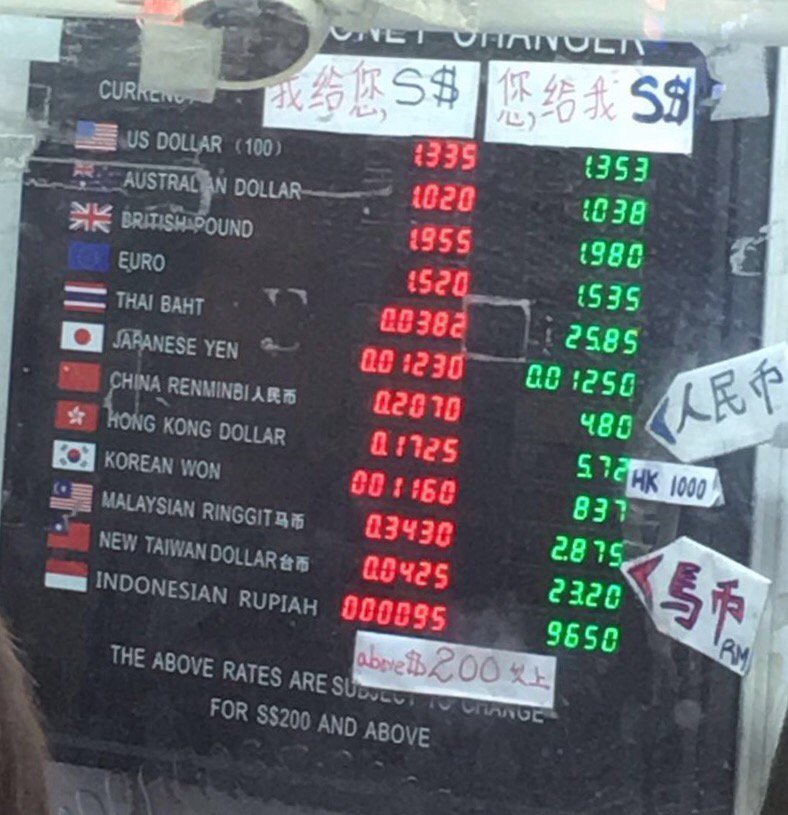 Singaporeans love to travel – best money changer rates comparison
But before we board our flight, most of us would head to the nearest money changer.
Blasted with a dizzying array of numbers in two columns, how do you decipher which value you're changing your currency at?
Don't worry. We're here to give you a five minute guide to successfully deciphering the money changer board.
The Scenario.
I'm going to Japan, and I just want S$1000 to be changed into Japanese Yen.
At the money changer, I'll get to see the rates being presented to me like this:

The Solution.
If you are holding Singapore Dollars (SGD), you should be looking under the WE SELL column.
The value shown in our example is 12.44.
But are you getting ¥12.44 per S$1000? Nope.
The Math.
Here's how we should calculate, and it's fairly easy:
( Base currency(SGD) / We Sell Column ) X Unit
or
($1000 / 12.44) X 1000 = **80385.85 Yen
And oh! We're always on hand to hear feedback. Drop us a note here
As usual, are you a money changer? Join us by leaving your contact here directly and stand to gain our whole suit of software and hardware for free to help digitize your business. 🙂
Missed our recent news? Catch up on news like best money changer rates comparison here https://stories.cashchanger.co/
Compare & get latest best Exchange rates #SGDMYR #MYRSGD #MYR #RINGGIT #MALAYSIARINGGIT #SingMalaysia #SingMY https://cashchanger.co/singapore/sgd-to-myr
Compare Remittance best rates to send money from #Singapore to #马来西亚 – https://remit.cashchanger.co/singapore/sgd-to-myr
Catch us on:
Web: https://cashchanger.co | https://remit.cashchanger.co/
Telegram: https://cashchanger.co/telegram
Facebook: https://fb.me/cashchanger
Instagram: https://www.instagram.com/cashchangercom/
#exchangerate #remittance #compareexchangerates #compareremittancerates #fxrates