Money changer rates in Cingapore – There is usually no debate if The Arcade at Raffles Place is the hottest place in Singapore to have your dollars exchanged for any foreign currency.
And it is no rocket science – anyone who have had their currencies changed in anticipation for an upcoming overseas trip would believe The Arcade has offer the best rates.
There are dozens of money changers at The Arcade, each with their blinky walls of rates flashing – almost a concoction of dizziness if you're just interested in getting your currency changed without being taken advantage of.
With our observation and data gathering, here are the top money changers at The Arcade, in no particular order:
Arcade Money Changer
AL-Amin Trading
City Money Changer
Alifan
Amanath
China Money Exchange
Money Exchange
Arcade Plaza Traders
Hassan and Sons
(Of course, to know exactly which is the best of the moment, please consult our data at http://cashchanger.co)
So here's how we display our comparison:
For US dollars, The Arcade Plaza Traders seems to have one of the best rates: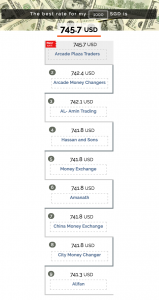 For Chinese Renminbi: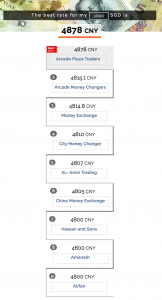 For Malaysian Ringgit: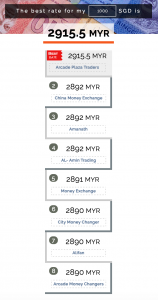 So lets get some currencies changed, and get ready for your upcoming trip out of Singapore!
As usual, are you a money changer? Join us by leaving your contact here directly and stand to gain our whole suit of software and hardware for free to help digitize your business. 🙂
Missed our recent news? Catch up on news like money changer rates in singapore here https://stories.cashchanger.co
Compare & get latest best Exchange rates #SGDMYR #MYRSGD #MYR #RINGGIT #MALAYSIARINGGIT #SingMalaysia #SingMY https://cashchanger.co/singapore/sgd-to-myr
Compare Remittance best rates to send money from #Singapore to #马来西亚 – https://remit.cashchanger.co/singapore/sgd-to-myr
Catch us on:
Web: https://cashchanger.co | https://remit.cashchanger.co/
Telegram: https://cashchanger.co/telegram
Facebook: https://fb.me/cashchanger
Instagram: https://www.instagram.com/cashchangercom/
#exchangerate #remittance #compareexchangerates #compareremittancerates #fxrates