Rate Advisor Alert: FAQ These are the most frequently asked questions about our CashChanger Rate Advisor Alert.
What is Rate Advisor Alert
Our CashChanger Rate Advisor Alert allows you to subscribe to rate advisor alert for the currency pairing of your choice (for example: Singapore Dollar to Malaysia Ringgit). This alert will trigger (by email) when the selected currency pairs indicate that it is good time to visit a money changer or send money overseas.
How do we determine it is good time to visit a money changer / send money overseas
We pulled 6 months (180 days) worth of daily rates data from the European Central Bank. Averaging of every currency (sum average). Then we compare the average with today's rate – also from the same European Central Bank source. From there, if today's rates were better than the 6-month average, we would then determine that it is a good time to change.
However, if today's rate is lower than the 6-month average, we would then determine that it would not be a good time to change. For more details, you can refer here.
What does thumb up and thumb down means
Good rates would receive a thumbs up and bad rates will receive a thumbs down according to CashChanger rate advisor calculations.
How to subscribe to CashChanger Rate Advisor Alert
You need to signup for a member account. After you signup, we will send an email to the mailing address that you registered with us. You need to activate your email address by clicking the link provided in the email. This is to verify that the email is valid so that the email alert can reach you. Member account is FREE, you can sign up here.
Then you can proceed to subscribe to our rate advisor alert by selecting the currency pairs that you wish to follow.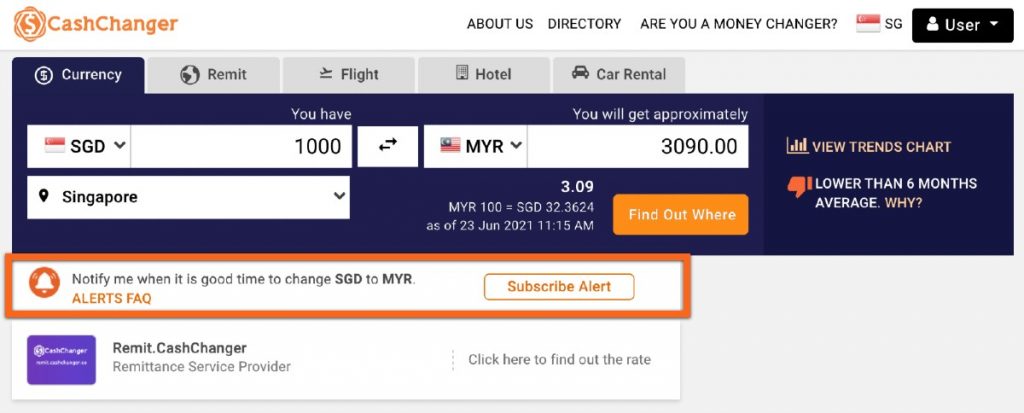 Where can I find the currency pair that I want to subscribe for alert
You can go to the currency result page to subscribe rate advisor alert.
How can I get historical currency rates
Historical currency rates can be found through our website at CashChanger historical Mid-Market rate
Please contact CashChanger team if you have any questions on Rate Advisor Alert: FAQ.
As usual, are you a money changer? Join us by leaving your contact here directly and stand to gain our whole suit of software and hardware for free to help digitize your business. 🙂
Missed our recent news? Catch up on news here  https://stories.cashchanger.co/
As always, for money changer and remittance rates visit
Web: https://cashchanger.co
Telegram: https://cashchanger.co/telegram
Facebook: https://fb.me/cashchanger
Instagram:https://www.instagram.com/cashchangercom/