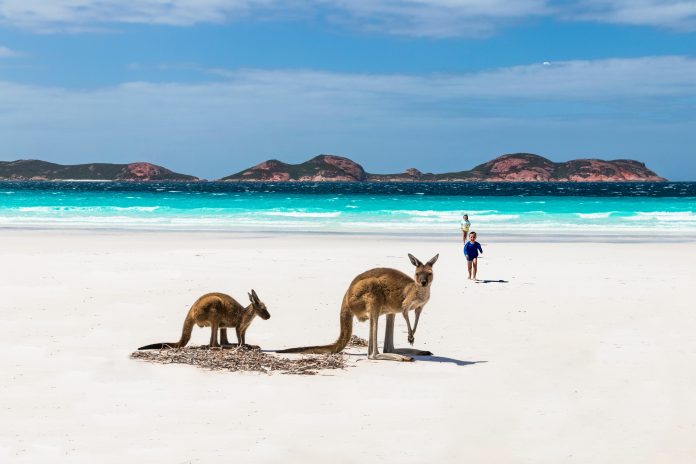 Visit Australia again – Attractions, Entertainment, Dining – Australia is a vast country with a wealth of attractions, entertainment, and dining options. Many exciting places to visit and things to do during your trip to Australia. Do remember before your trip to Compare & get latest best Exchange rates #SGDAUD #AUDSGD #AUD #AussieDollar  #Australia https://cashchanger.co/singapore/sgd-to-aud
Attractions
Kakadu National Park – This stunning national park is located in the Northern Territory and is home to some of Australia's most iconic wildlife and landscapes, including waterfalls, wetlands, and ancient rock art.
Kangaroo Island – Kangaroo Island is a wildlife sanctuary located off the coast of South Australia. Visitors can see a wide variety of Australian animals, including kangaroos, koalas, and wallabies, as well as beautiful scenery and stunning beaches.
Cairns – Cairns is a tropical city located in Far North Queensland, and is a popular gateway to the Great Barrier Reef. Visitors can enjoy the city's laid-back vibe, explore nearby rainforests and waterfalls, and go snorkeling or diving on the reef.
The Kimberley Region – Located in Western Australia, the Kimberley region is a vast and remote wilderness that is home to rugged coastlines, stunning gorges, and unique wildlife, including crocodiles and wild horses.
Entertainment
Australian Rules Football – A uniquely Australian sport, Australian Rules Football (or "footy") is a high-energy game that is played all over the country. Visitors can catch a game and experience the excitement of this popular sport.
Festivals – Australia is home to a variety of festivals throughout the year, including music festivals, food and wine festivals, and cultural events. Some of the most popular festivals include the Sydney Festival, the Melbourne Food and Wine Festival, and the Byron Bay Bluesfest.
Casinos – Australia has a number of world-class casinos that offer a range of entertainment options, including gaming, live music, and fine dining. Some of the most famous casinos include the Crown Casino in Melbourne and The Star in Sydney.
Dining
Seafood – With over 34,000 kilometers of coastline, Australia is home to some of the freshest and most delicious seafood in the world. Visitors can enjoy everything from fish and chips to world-class seafood restaurants, particularly in coastal towns and cities.
Barbecue – Barbecuing (or "barbies") is a popular way of cooking and socializing in Australia. Visitors can enjoy delicious barbecued meat and seafood at outdoor parks, beaches, and even in private homes.
Indigenous Cuisine – Australia's indigenous culture is rich and diverse, and visitors can enjoy traditional indigenous cuisine at a variety of restaurants and cafes across the country. Australia has a large Asian population, which has led to a thriving Asian food scene. Visitors can enjoy delicious dishes from a variety of Asian cultures, including Chinese, Japanese, Thai, and Vietnamese.
Overall, Australia offers a wide variety of attractions, entertainment, and dining options that cater to a wide range of interests and tastes. From natural wonders to urban delights, there's always something new to discover in this amazing country.
As usual, are you a money changer? Join us by leaving your contact here directly and stand to gain our whole suit of software and hardware for free to help digitize your business. 
Missed our recent news? Catch up on earlier news like Visit Australia again – Attractions, Entertainment, Dining here https://stories.cashchanger.co/indonesia-massive-7-6-magnitude-earthquake-tsunami-warnings/
Compare Remittance best rates to send money to Australia #Aussie #Downunder #澳大利亚 #澳洲 – https://remit.cashchanger.co/singapore/sgd-to-aud
Catch us on:
Web: https://cashchanger.co | https://remit.cashchanger.co/
Twitter: https://twitter.com/cashchanger
Telegram: https://cashchanger.co/telegram
Facebook: https://facebook.com/cashchanger
Instagram: https://www.instagram.com/cashchangercom/
#exchangerate #remittance #compareexchangerates #compareremittancerates #fxrates