How does CurrencyFair works?
CurrencyFair is a unique international money transfer. They do not just provide a straightforward remittance service but also allows you to manage your funds accordingly to your preferences.  CurrencyFair enabled you to exchange up to 18 currencies directly with other CurrencyFair customers. From there you can transfer money to over 150 countries.
What do you need to send money via CurrencyFair?  
You just need to complete the registration process and they will verify your personal or company information.  You can send in money to your CurrencyFair account through your online banking. Make sure to use your unique CurrencyFair ID so they can ensure to apply your funds to your wallet as quickly as possible.
How do I send money on CurrencyFair? 
Open an account easily
Complete your profile and upload a proof of ID and address. Following in-person verification, start to send and receive money from overseas online.
Set up your transaction
Tell us the amount, the currency you want to exchange to and the bank account you wish to send money to.
Transfer your money
Send your money to CurrencyFair by bank transfer to be exchanged into 20 currencies. When CurrencyFair receive your money, CurrencyFair exchange it at the best available rate and transfer to the recipient without delay.
Your money arrives
The recipient receives their money: fast, secure worldwide transfers at bank- beating exchange rates.
Is CurrencyFair good? 
CurrencyFair has an impressive score of 9.3 out of 10 from TrustPilot for 2860 reviews and that is one of the highest in the industry. They also offer the best rate available to
Transfer which is likely to be an extremely competitive rate compared to the mid-market or Interbank exchange rate. In addition to that, they also enable you to choose your desired rate that gives you the option to wait for a match on your preferred rate.
CurrencyFair has been in operations since 2009 and has amassed a dynamic and growing customer base. As it is a platform to exchange currencies with one another, CurrencyFair users have access to an increasing pot of users' money, providing liquidity which ensures that currency exchange orders can be fulfilled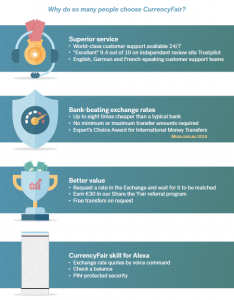 Is CurrencyFair safe?
CurrencyFair is licensed in Singapore to perform money transfers. Their reliability is comparable with other financial institutions and banks in Singapore and are monitored by the Monetary Authority of Singapore.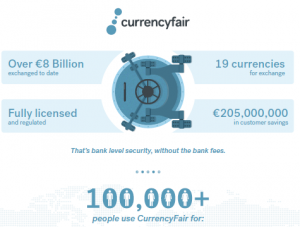 How long does the money reach the recipient? Does CurrencyFair send money instantly?
Unfortunately, CurrencyFair cannot tell you when the transfer will reach the recipient's account. They do provide a sample processing time, but it cannot offer a guarantee when the remittance is completed.
The processing time is estimated according to your bank. CurrencyFair will first move your money into your CurrencyFair account as soon as you have made the transfer from your bank. The funds will then be sent in the morning of next day, and as most banks, have a cut-off time in the early after. The transfers will on;y take place the following day and thus it generally takes 2-5 business days depending on your bank.
Is CurrencyFair cheaper than bank transfer?
CurrencyFair charges SGD 5 per transaction and collects 0.45% spread built into their exchange rate. They add this margin to the mid-market exchange rate, which you see on Google or Reuters.
How can I track my CurrencyFair money? 
The transfers you made to CurrencyFair are recorded by your bank. Whatever exchanges or transfers you made on CurrencyFair are recorded and saved in their platform located in your account summary which any update of status will generate a confirmation email sent to you. In short, all interactions with CurrencyFair are full documented and available to you when you need them.
All deposit recorded by your bank
Receive a confirmation email instantly
All interactions with them are fully documented
Is CurrencyFair regulated by MAS?
CurrencyFair is regulated by the Money Changer and Remittance Company fully authorised by the Monetary Authority of Singapore under the Money-Changing and Remittances Business Act.
All customer funds are held separately in segregated client accounts with some of the world's largest financial institutions.
Is CurrencyFair better than bank?
CurrencyFair is fast, secure money transfers and rates are fair and cheaper than a typical Bank. Our peer-to-peer model means customers exchange with real people and get real savings, unlike when using a bank or broker.
How to transfer money to someone else account?
Select "Send Money"
Enter the amount and choose the currency that you intend to send in and the currency that you wish to exchange and transfer.
Next, choose the bank account that you would like the funds to be transferred to.
Then need to choose your deposit method depending on the currency and amount of your transaction.
Send your money into CurrencyFair.
CurrencyFair will exchange your funds for you at the best available rate.
The funds will then be transferred to the recipient you have selected.
CurrencyFair will send you an email to notify you that your Send Money has been processed.
Please note this will auto-expire in 14 days.
Sit back and relax.
Does CurrencyFair have a fee?
No, CurrencyFair does not charge any fees to receive your money via a bank transfer. Other deposit methods such as Express Deposit will have an additional cost.
Is CurrencyFair safe for large amount?
Yes, CurrencyFair has exchanged over €8 billion since opening seven years ago and offer rates other banks can't compete.
What is the maximum I can transfer with CurrencyFair?
There is no maximum amount as the minimum amount you can transfer with CurrencyFair is 8 Euros or equivalent. Some international money transfer providers have minimums upwards of $1000 so for small transfers CurrencyFair is a good option.
Is there promo code for CurrencyFair?
Yes, as for promotion right now, CurrencyFair is offering unlimited free transfers for 3 months for new accounts in Singapore.
Remittance Provider?
If you are a remittance provider and like to be part of us, we welcome you and you can register with us here!
As always, for money changers' rates visit
Web: https://cashchanger.co
Telegram: https://cashchanger.co/telegram
Facebook: https://fb.me/cashchanger
Instagram:https://www.instagram.com/cashchangercom/